About Regal Palms
Amenities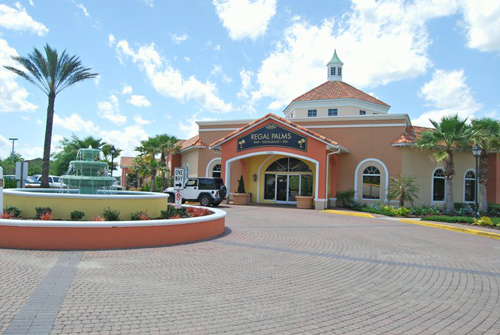 A gated community. The resort's Clubhouse incorporates a 24-hour check-in facility, sports pub broadcasting live events worldwide, casual dining, arcade, business center, meeting facilities, fitness center and a large swimming pavilion complete with waterslide, lazy river and sunbathing terraces. There is a Spa and Health Club that offers an array of wellness, fitness and beauty treatments. There are meeting and banquet facilities that offer 1,947 square feet of occupiable space.
Activities
Resort activities are plentiful. For indoor fun, there is an arcade. The resort complex boasts a two-acre swimming complex, complete with waterslides, lazy river and sunbathing terraces. Highlands Reserve Golf Club offers remarkable scenery and challenging fun for all levels of golfers. For sports enthusiasts, Regal Palms Bar & Grill broadcasts live sporting events from all over the world. You'll never miss an important game. A fully equipped fitness center features cardiovascular training, treadmills and more. Explore and be a part of the adventure at Banana Jack's™, the ultimate themed dining, resort arcade experience, sure to be Davenport's favorite fun spot for families!
Visit our Gallery for more photos or email Laura at regalpalmsll@aol.com for more information.